In life we make commitments in many ways, we sign contracts, we write policy, we shake hands (or tap elbows), we write vows, and if you're a youngster making deals, we even enact the all-powerful-pinkie-promise.
Whilst the method might change, the spirit of the agreement remains the same, doesn't it?
I am committing, to do what I say I will do. I'm giving you my word. And I will follow through with action.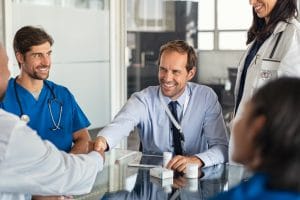 In workplaces, that 'word', is captured in policy. In policy, we state our promise to our people.
But amidst the rush, the complexity, the risk, the constant challenges and changes, we can forget the nice simplicity of that.
We labour over accuracy, over currency, over compliance, over auditability, over not missing a detail. Over Every. Last. Letter. And we should, right? We owe it to ourselves, to our people, who are our greatest asset, to do it right.
Now we're not saying for a moment that we shouldn't pay attention to those fundamentals, we're simply saying that should always remember the spirit of why we make these commitments in writing to our people. Why we have them, why we write them, and why we care in the first place.
In signing up to work in our organisations, our employees, our people, they make a commitment to us. They sign the contract, accept the terms and get to work on our behalf. They commit. And we owe them a commitment in return. We commit that through their work, in pursuit of our goals, we will take care of them, hold concern for their safety, their health, their wellbeing, their environment. For they are our greatest asset. And if policy weren't required as a rule, it would be the right thing to do regardless.
………………
Simplify Systems makes the process of capturing your commitments, as easy as pie. You focus on your people and implementation, and we've got you covered with the technicalities.
Recommended products for businesses requiring policy development support.
Ready to use, modifiable, cost effective policies
At Simplify Systems, we're here to help you protect your people, your assets and enhance your business performance through structured risk management.
We know first-hand that having sound systems in your business, leads to positive business outcomes, including a healthy and safe workforce, efficient work processes and the ability to demonstrate your due diligence as a business owner or manager.
Simplify Systems Pty Ltd is an Australian owned and operated business specialising in providing you with high quality and user-friendly risk management, safety and compliance systems, tools, templates and documentation, to make your pathway to improvement as smooth as possible.
Founded by experienced, expert risk management and business professionals, Ryan Kellen and Amy Hill, Simplify Systems is your virtual partner for policies, standards, templates, tools and checklists that can be used and modified by any business, saving you valuable time and resources and allowing you to focus on quality implementation and business improvement.
Developed and tested by leading professionals in risk, safety and compliance and experienced subject matter experts, our products are priced to be accessible to all businesses and organisations, small and large. Our products are your starting point and can be easily modified to the operations and needs of your business.
Our easy-to-use store is designed to suit a variety of business needs and gives you flexible options including direct purchase and by popular demand, our new Basic and Premium subscription packages, providing you with exceptional value and access to plans, resources and templates.